At AgChat's 2016 Cultivate & Connect Conference I expected to learn how to become a better advocate for agriculture. As usual, my expectations were blown out of the water. I learned many valuable things about engineering networks, telling my story, and effective ways to engage with the public, to name a few.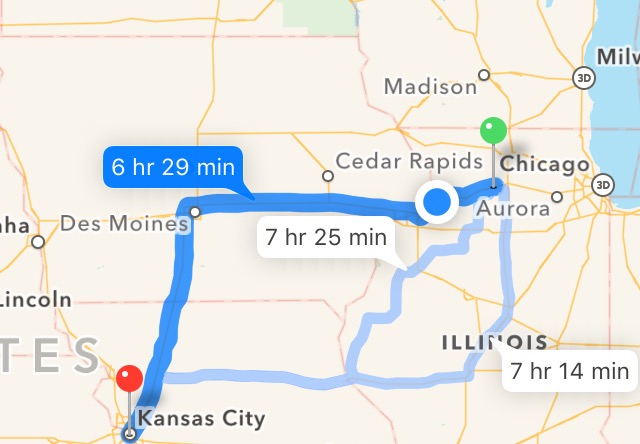 However, during my lengthy drive home from Kansas City I realized I also learned a few things I wasn't expecting – deeper things that apply to life just as much as they do to "AgVocacy." Here are some of the lessons I learned at AgChat:
1. Never give up
Of all the speakers I was looking forward to hearing from at the conference, Amberley Snyder was at the top of my list. She didn't disappoint and the message she delivered for the closing keynote was an important one: never give up. Sure, we've all heard that before, but hearing it come from a person who embodies the very essence of perseverance and determination gave it a different ring. As she spoke, the room of over 150 people was completely captivated and I swear you could've heard a pin drop.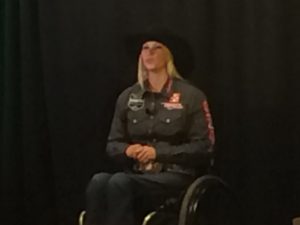 When Amberley was 19 years old, the competitive barrel racer was involved in an accident that left her paralyzed from the waist down. Against all odds, she's not only able to ride again, but she's out there competing and winning.
If you decide to say "I'm done," you are.
No one gets to chose what obstacles life throws their way, but we do get to chose our attitude and how we handle them.  This clearly has implications in life, but in AgVocacy this means we can choose to take the high road, we can chose to be positive in the face of aggressive negativity, and we can choose to gracefully bow out of dead-end conversations with people who've already made up their minds. It's easy to get beaten down and feel the situation is hopeless at times, but we can also chose to never give up. Indeed, I don't think a single one of us can afford to. In the end, this does more to define us than any given circumstance ever could.
2. Pull each other along
On the second day of the conference, Leah Beyer shared a piece of applause-worthy advice during the Issues in AgVocacy panel:
We have to pull each other along and help each other out. Your success does not tarnish my success.
As advocates for agriculture, we have to recognize our shared values and come together on common ground like we always preach. During the live filming of the SharkWire podcast, Rob Sharkey pointed out there isn't a monopoly on AgVocacy. There isn't just one right way to do it and we should want all of our peers to be successful no matter what path they chose. It's not about who can be the best voice or the poster child for agriculture because we need every single voice we can get. When it comes down to it, success for one of us is success for all of us.
I can't help but think how true this rings in life as well.
3. Don't minimize your role
You may not know it from my activity on social media, but sometimes I struggle finding my place in advocating for agriculture because I don't farm and I wasn't raised on a farm. It's not that anyone has ever made me feel like I don't have a place to speak up, it's that I respect what farmers do so much I don't ever want to misrepresent myself, or them. So I found myself nodding along as Leah spoke with a similar sentiment, saying she considered herself a farm wife, not a farmHer (a clever word like AgVocacy used to describe a female farmer.) However, Cristen Clark was quick to speak up:
Don't minimize your role. I get absolutely distraught when women minimize themselves.
I still wouldn't call myself a farmHer, but Cristen's statement gave me a gut check when it comes to minimizing myself in the AgVocacy arena. Farmers aren't the only ones with a right to stick up for modern agriculture and they certainly shouldn't have to carry that weight alone. My story may be different from theirs, but I can help pull them along. I can play a bigger role than just sitting on the sidelines cheering them on. And I will. Didn't I just say agriculture needs every voice it can get?
4. Passion over perfection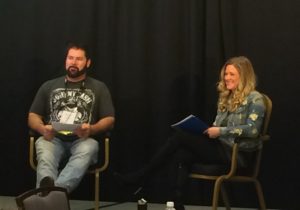 This one should probably be taped to my forehead. As I listened to Barbara Siemen describe reinventing herself after a legal battle over her blog name, one thing she stressed was that she had to learn to strive for passion over perfection.
This one hits home for me, especially when it comes to blogging. I can't tell you how many post drafts have never been published because I didn't feel they were good enough. I tend to go over and over sentences, formatting, and wondering what people reading will think to the point that I get frustrated or burned out and never finish. Of course I don't want to publish trash that isn't meaningful or thought out, but I'll be more successful if I concentrate on letting my passion shine through rather than accomplishing complete perfection. So thank you, Barbara. If it wasn't for you this post would probably be collecting dust in my drafts with all the others.
As always, AgChat provided me with some great tips to become a better advocate for agriculture and I left the conference motivated and recharged. I'm grateful for the opportunity I had to meet so many inspirational members of my agriculture tribe and humbled by the bigger lessons I learned. While almost all of these lessons are meant to be applied to AgVocacy, there are clear applications in life as well.
Did you attend AgChat's 2016 Cultivate & Connect Conference? Let me know some of your biggest takeaways below!